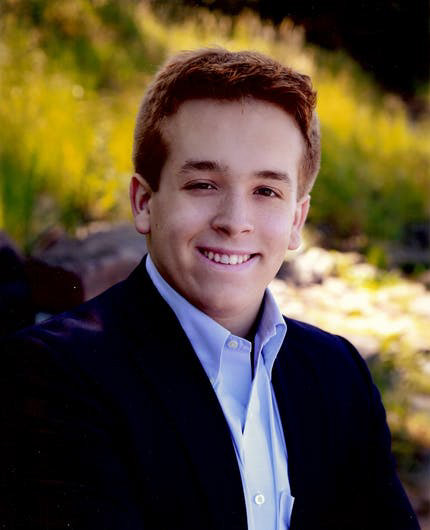 Shane Beal, 20 years old, died on Thursday, May 23, 2019.  He succumbed to sudden cardiac arrest despite excellent health.  While there is still no medical explanation, his family believes that he was called to a higher cause. 
He had just completed his sophomore year at the University of Toronto, College of St. Michael's, where he was a History and Philosophy double major and worked in the library.  He was a proud participant in the inaugural year of his college's Gilson Seminar in Faith and Ideas.  Since his later high school years, Shane had become increasingly devout in his Catholicism, and living his faith was extremely important to him.  He enjoyed reading and debating principles of the church, collecting vintage books on history and theology, praying the rosary, and praying for others.  He received Apostolic Pardon before his passing.  Following in his grandfather's footsteps, he was due to be exemplified with the Knights of Columbus in June. 
Born in Minnesota, Shane moved to London, England at age five.  When he turned seven, his family resettled in Vermont.  He graduated from Charlotte Central School and Champlain Valley Union High School.  He played drum kit in his schools' jazz and pit bands and was proud of the creative writing and Ancient Greece awards he received.  He was a voracious reader. 
One of Shane's best attributes was that he engaged with people and the world in a way that was both buoyant and completely earnest.  His insatiable curiosity made him appreciative of the small wonders of life.  He was full of energy, had a captivating personality, a knack for conversation, and child-like optimism.  
He loved kids.  In Vermont, he volunteered at the Boys and Girls Club and worked at a soccer camp.  He also worked as a checkout clerk at a grocery store, where he was renowned for his friendly demeanor and lively chats with customers.  He had just begun a summer job at an after-school program in Minnesota which he loved, and which furthered his interest in inspiring children to be their best.  But it also just made him happy to play along. 
Shane was a sweet boy with a big and open heart.  He could talk endlessly with friends and strangers alike, whether they had the same point of view or not.  When he had interest in a topic or project, he pursued it with unbridled enthusiasm.  He was passionate about nature and loved to hike, fish, kayak, and birdwatch.  He had a special fondness for ducks and loons and took great care of pets he had over the years, including dogs, a cat, chickens, and a frog.  As his brother said, when Shane was in the room, even mundane activities were enlivened.  Shane kept very close with his brother even while he was at school and valued their friendship tremendously.  Just after returning home from college for the summer, he built a birdhouse from scratch with his sister, and was completely content sitting on the porch each day with his morning coffee, watching the chickadees as they moved in. 
Shane is survived by his brother, Evan, sister Heidi, and parents Lisa (née Gladwin) and Erik Beal, as well as his grandparents, aunts and uncles, and cousins Paul, Tim, and Dan (and Sara Hope) Spencer; Addison, Isabella, and Sabrina Morse; Esmeralda and Lucian Montgomery, and many other relations.  Although they lived apart, the cousins were very close friends. 
The Requiem Mass for Shane will be held at St. Therese Catholic Church, 18323 Minnetonka Boulevard, Deephaven, Minnesota, on Friday, May 31, 2019.  Visitation will be at the church at 10 a.m., followed by the Funeral at 11 a.m.  An informal memorial is planned for Saturday, June 15, 2019 in Vermont. 
Published on May 30, 2019